The REIT Roundup: Eight REITS to Look at When Making Your Next Real Estate Investment
When it comes to investing in real estate, few have the funds or the time to take on and manage a property on their own, which is where Real Estate Investment Trusts come in: companies that own properties across different sectors of real estate and allow you to become an investor in them – similar to buying a stock in a company.
Below, we've provided eight REITs that are worth looking at (both public and private) and compared them across 5 key dimensions: property type, fees, minimums, liquidity, and returns.
Summary
When looking to invest in a REIT, you'll want to be aware of its performance. In the REITs we're examining today, the top three return rates are Roots at 18.3% (October 1, 2022 - October 1, 2023), Brookfield REIT at 10.97% (average annual return), and Whitestone REIT at 11.3% (average annual return).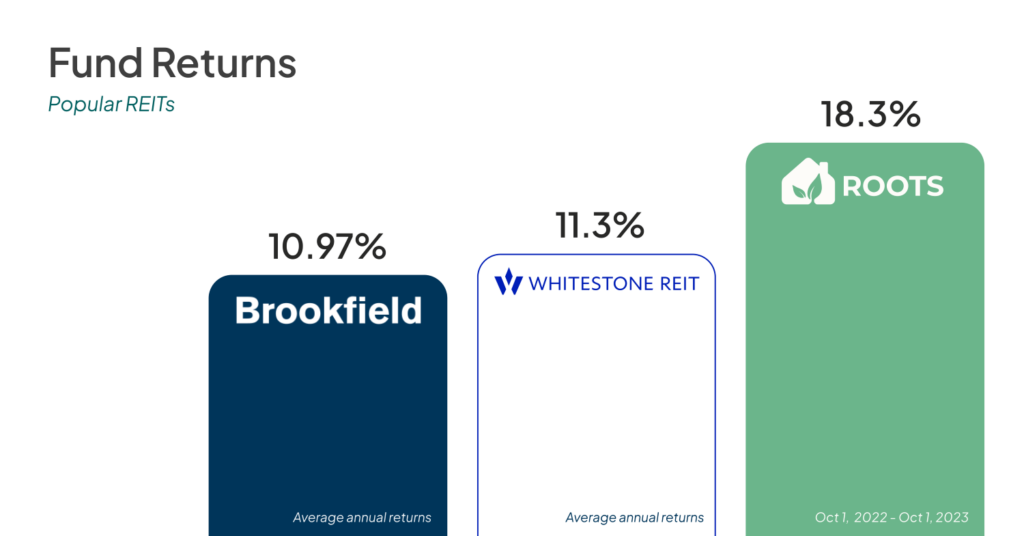 It's also important to understand the type of property you'll be investing in when you become a shareholder of a REIT. Below is a breakdown of the eight REIT's we'll be discussing and what type of property that REIT offers: commercial, residential, or a mix of the two.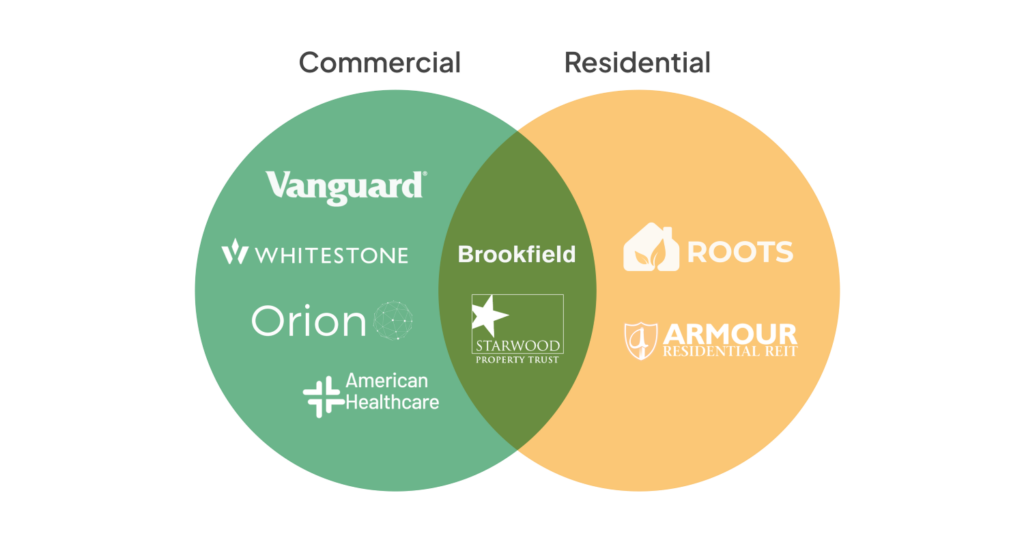 Finally, you'll want to pay attention to the minimum investment for any REIT you're researching, as some have a high minimum investment – up to $250,000! Not all of the REITs you'll read about today have minimums that high. The three lowest minimum investments of the eight REITs are: Roots at $100, Armour Residential at $250, and Vanguard at $1,000.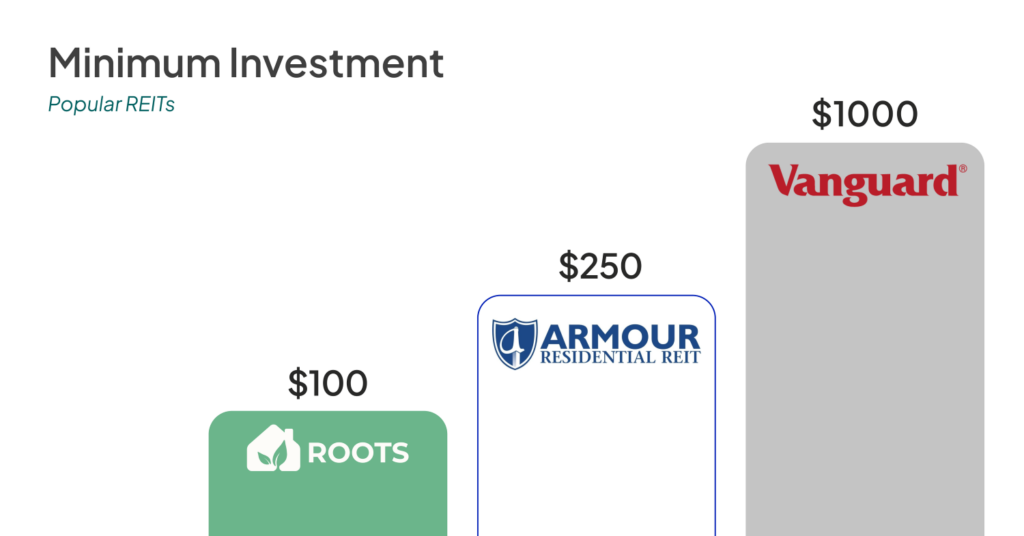 Vanguard REIT
Vanguard REIT is a publicly traded ETF (exchange-traded fund) that invests in stocks that are issued by real estate trusts and companies that purchase properties like office buildings and hotels.
The properties under Vanguard's VNQ are all in the commercial real estate sector.
Vanguard charges a $25 annual fee that applies to each of your brokerage and mutual-fund-only accounts.
The minimum investment is just $1, but there is a $1,000 minimum investment for Vanguard Target Retirement Funds and Vanguard's Star Fund.
Vanguard's VNQ offers quarterly distributions to investors.
Vanguard's year to date return as of 10/19/2023 is -5.4%.
Vanguard's average annual returns are 6.81%.
Roots REIT
Roots is a private REIT focused in the greater Atlanta market and dealing in residential rental properties. It's the only REIT that grows wealth for its investors and residents. Its residents are automatically enrolled in the Live Like You Own It® program, which means that they become investors the day they move in, leading to a win-win partnership that delivers great returns and a unique social impact.
Roots properties are all residential rental properties in the greater Atlanta metropolitan area.
Roots charges a $5 transaction fee, and an early withdrawal fee (less than 12 months invested) of 6%.
Roots has a minimum investment of only $100.
Roots offers quarterly distributions in the form of dividends, and investors can reinvest those distributions.
Roots return from October 1, 2022 - October 1, 2023 is 18.3%.
Roots return from July 1, 2021 - October 1, 2023 is 40%.
Whitestone REIT
Whitestone is a community oriented public REIT that attempts to acquire, develop, redevelop, manage, and lease their properties based on the reflected needs of the community that property is in. They focus on working with local businesses, people who are already invested in the community.
Whitestone's properties are all open-air, retail centers mainly in Texas, but with property in Arizona and Illinois, too.
Whitestone charges $15 per transaction as well as $.10 per share on commissions.
The minimum investment at Whitestone is $250,000
Whitestone offers monthly distributions to its investors in the form of dividends.
Whitestone's 2023 YTD return as of 10/19/2023 has been 1.86%.
Whitestone's return since its inception as of 10/19/2023 is -14.51%
Orion REIT
Orion is a public REIT that has over 81 properties across 27 states, and their focus is single-tenant net leases given to creditworthy tenants. They specialize in the ownership and management of essential office buildings in high quality suburban markets.
Orion's properties are all mission critical and headquarters office buildings in suburban markets across the United States.
Orion charges no fees.
The minimum investment at Orion is $10,000.
Orion gives distributions to investors every quarter in the form of a dividend.
The average annual returns of Orion are -6.12%
The lifetime returns of Orion are -67.6%.
Brookfield REIT
Brookfield is a private REIT that strives to find quality assets across properties, regardless of where those properties are or what sector of real estate they're in, and they seek income producing properties to maximize income and minimize downside.
Brookfield has properties in various sectors, including logistics, office buildings, and rental housing.
Brookfield charges a fee of 1.25% of the net asset value (NAV) per year.
The minimum investment at Brookfield is $2,500.
Brookfield offers investors liquidity monthly, with caps of 2% NAV per month and 5% NAV per quarter.
Brookfield's average annual return is 11.44%.
Brookfield's returns since inception are 42.9%.
Starwood REIT
Starwood is a public REIT that seeks to create a portfolio of high-income producing, stable properties across the United States and Europe, without a specific focus on one location or one sector. Because of this, Starwood offers an incredibly diverse portfolio covering many sectors and locations around the globe.
Starwood has both commercial and non-commercial properties, including hotels, offices, family rentals, and medical buildings.
Starwood charges a few of 1.25% of the NAV per year, which is payable monthly.
Starwood's minimum investment is $5,000.
There are monthly liquidity options for Starwood's investors.
Starwood's YTD return as of 10/19/2023 is -2.56%.
Since inception, Starwood's average annual return is 10.1% (class 1).
American Healthcare REIT
With over three hundred properties in their portfolio, American healthcare is one of the largest public, healthcare-focused REITs in the country. Their portfolio goes across all sectors of medical real estate, from senior living centers to nursing facilities.
American Healthcare focuses solely on medical real estate, and their properties are all essential medical buildings.
American Healthcare charges a fee of 3% of the gross offering proceeds.
American Healthcare requires $2,500 as a minimum investment.
American Healthcare offers quarterly liquidity distributions in the form of dividends.
Since inception, American Healthcare's returns sit at -4.9%.
American Healthcare has an average return of -6.2%.
Armour Residential REIT
Armour Residential is a public REIT that invests in residential mortgage backed securities issued or guaranteed by the United States governments, such as Fannie Mae (Federal National Mortgage Association).
All of Armour Residential's properties are in the sector of residential real estate.
Armour Residential charges a fee of $15 per transaction, prorated based on shares purchased.
Armour Residential has a minimum investment of $250.
Armour Residential distributes monthly dividends to its investors.
The year to date return as of 10/19/2023 is -6.99%.
Since inception, Armour Residential's returns are at 6.4%.
Ready to Get Started? Invest with Roots!
Start Investing
Start investing with as little as $100 and in 5 minutes you can own a piece of the only real estate portfolio that creates wealth for both its investors and its residents.
---
Sources
You may be interested in
See other posts