Why Invest in Atlanta Real Estate?
The heart of the South East, real estate investing may not be the first thing you think of when considering the many draws of Atlanta. A rich sports history, incredible music, diverse culture, and many museums often leave the real estate investment opportunities in Atlanta overlooked, but in a city with so much to contribute, discovering all that Atlanta has to offer is the first step toward a very lucrative investment in real estate.
Atlanta has seen over 80,000 people moving there with each passing year, and the need for the supply in housing will only continue to rise. With this and other factors in mind, Roots chose to get their feet on the ground in Atlanta, with all of the fund's properties currently in the greater Atlanta market.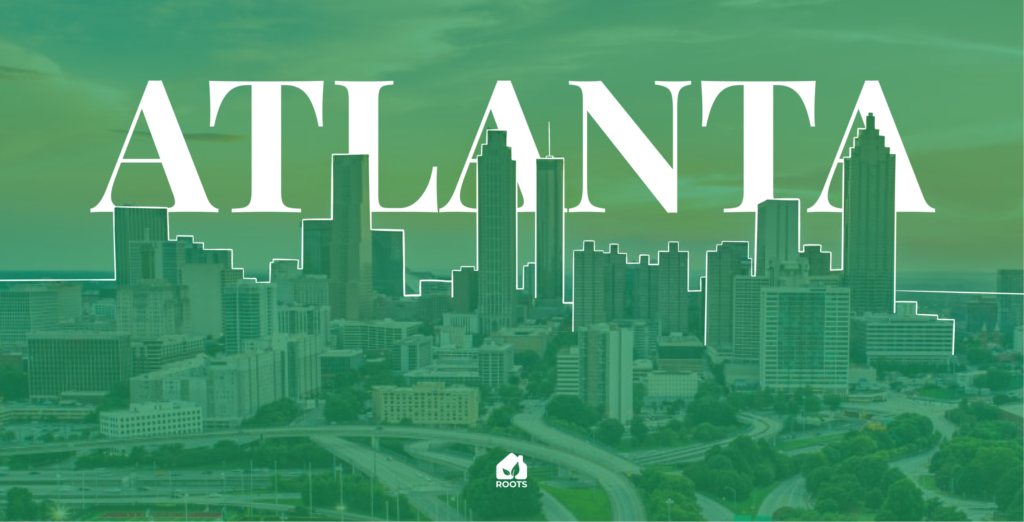 What Makes The Atlanta Real Estate Market One of The Best?
According to the National Association of Realtors, Atlanta is expected to be the top real estate market for the year of 2023, and a large reason for that comes from its population growth, its diverse economy, and the role that the film and television industry is having on people and industry moving into the city.
Atlanta's Population Growth
Over the years, the city of Atlanta has experienced a very consistent population growth, and the math here is simple! More people moving to Atlanta means that there's a higher demand for housing – both rented and bought – which can increase both property values and rental income. Since just 2010, Atlanta's population has risen by 24.4%, which equates to roughly 80,000 new residents with every passing year.
With years like 2021, where Atlanta saw a net migration ranking in the top ten of large metropolitan areas in the United States, it's no surprise that Atlanta expects to reach 8.6 million residents by 2050, which is a growth over 2.4 million people!
Through all of this, the year over year increase in the average price of a home in Atlanta reached 0% in March of 2023, battling back from its rises during the pandemic, and the average price of a home sits at around $375,000 which is $50,000 less than the average price of buying a house in the rest of the country.
With such consistent population growth, an ever increasing demand for housing, and real estate prices that have remained reasonable, Atlanta presents an incredibly strong opportunity for real estate investments.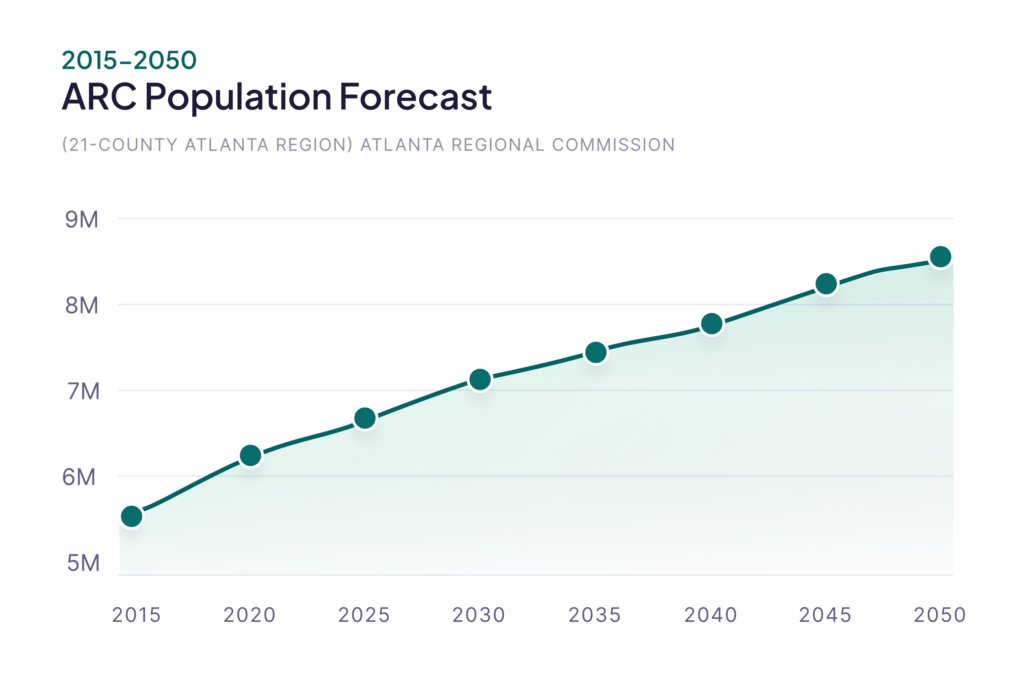 The Atlanta Economy
Atlanta boasts an incredibly diverse economy, with a major presence from big industries, such as technology, finance, healthcare, and entertainment and Fortune companies such as Coca-Cola, The Home Depot, and UPS all calling Atlanta their home.
When compared to other markets, the cost of living in Atlanta is considerably lower. The cost of living is the eighth cheapest across the twenty-five largest metropolitan cities, which is why it has become an increasingly popular city for potential residents who are looking for both quality and affordability.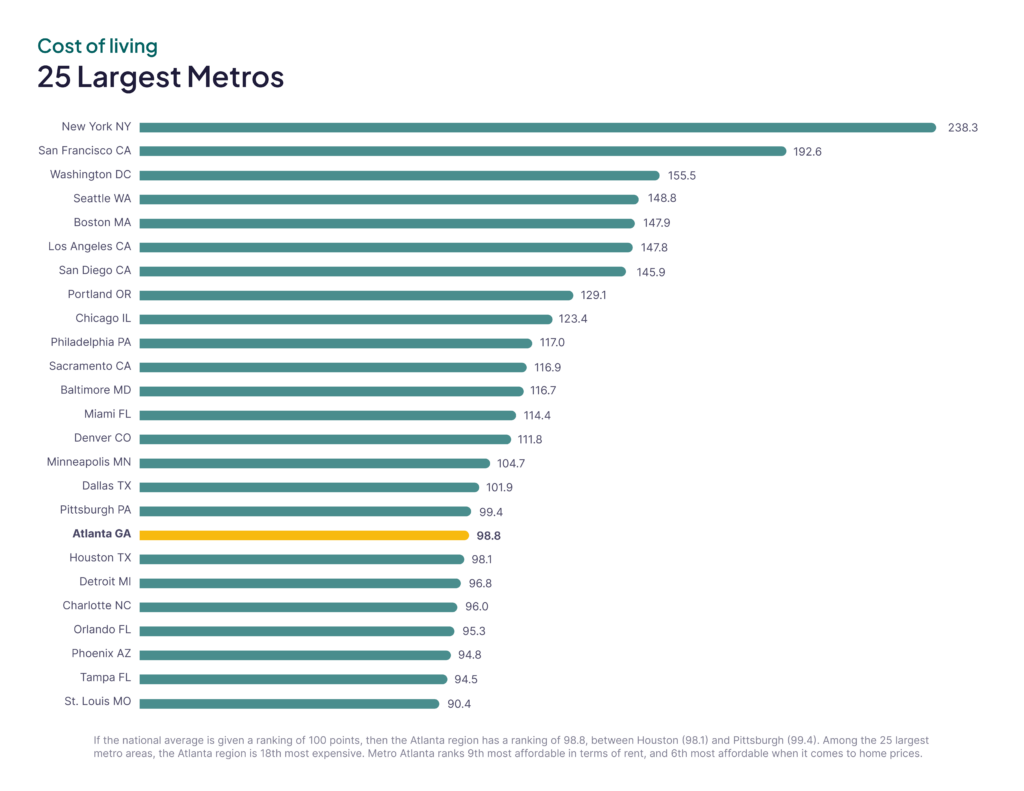 It doesn't hurt that the average price of a home in Atlanta is significantly below national averages, and the average cost of doing business in Atlanta is almost 5% below the United States baseline.
With metrics like these, a 5.4% increase in job growth, a 2.4% decrease in unemployment, and a robust job market, Atlanta is attractive to professionals and families looking for housing options. This demographic of citizens creates a very stable group of tenants for potential real estate investors in Atlanta.
Atlanta and The Film Industry
Often called "The Hollywood of the South," Atlanta has established itself as a titan in the film and television industry, being named the #1 State for Film Production by Business Facilities Magazine in 2020.
Atlanta offers great diversity in filming locations as well as very attractive tax incentives. This includes a 20% tax credit to any film company that spends $500,000 or more on projects over the course of one year plus another 10% tax credit if they include the "Made in Georgia" logo in the credits of the final production.
With $4 billion directly spent on film and 62 Emmy nominations for projects filmed in Georgia, in 2021 alone, the film industry brings in actors, crew members, and other personnel from projects that creates a need for temporary housing and contributes even further to the economic growth of Atlanta.
The demand for housing combined with the steady presence of the film industry in the city offers short term rental opportunities for investors as well as potential steady incomes, making Atlanta even more desirable for real estate investment.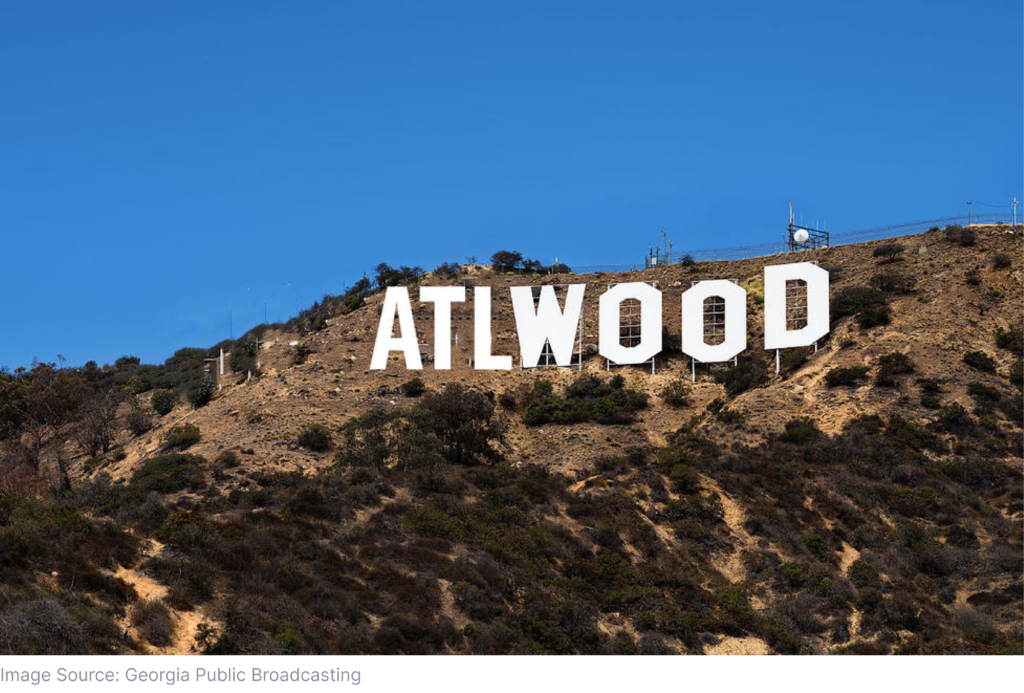 You can own a piece of Atlanta with Roots
There's no better place to invest in real estate than Atlanta, and with Roots, there's no better way to do it. With only a $5 entry fee and a minimum investment capital of only $100, Roots gives everyone the opportunity to claim ownership of a piece of Atlanta real estate.
Specializing in residential rental properties, Roots offers its tenants the chance to grow their wealth alongside investors by participating in the "Live Like You Own It®" program which gives residents quarterly rebates to invest in the fund for paying rent on time, taking care of the property, and being a good neighbor.
With as little as $100 and five minutes, you can join Roots and own a piece of Atlanta, one of the best cities for real estate investment, all while making a positive impact.
You may be interested in
See other posts