3 Popular Real Estate Investment Options for 2023 – Compare Roots vs. Roofstock vs. Crowdstreet
When looking to diversify your investment portfolio, real estate is one of the best options available, but it isn't always easy to get started. Finding the right place to invest can be a challenge, but Roofstock, Crowdstreet, and Roots make real estate investment easy with transparent online platforms that are easy to use and easy to understand.
If you are looking for less fees, lower minimums and a portfolio that has a one-of-a-kind social impact on its renters, Roots is for you.
If you are very interested in commercial real estate and are okay with a higher minimum, then Crowdstreet may be right for you.
If you're looking to purchase or sell a single family rental property instead of investing in a portfolio of properties, then Roofstock may be the best option for you.
Roofstock, Crowdstreet, and Roots all offer great ways to invest in real estate without hurdles like property management or rent collection. Below we'll compare them across 5 key dimensions: property type, minimums, fees, liquidity and average returns.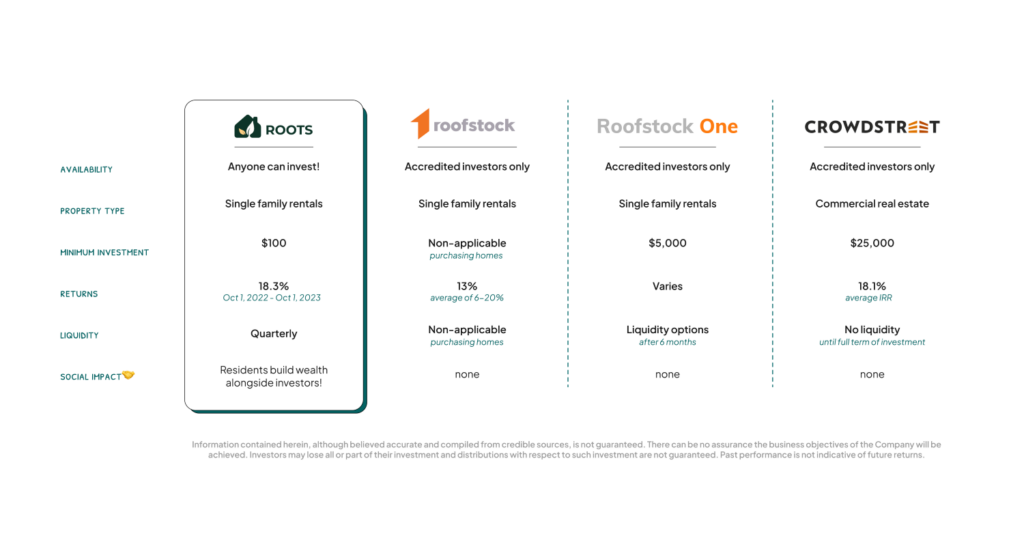 Property Type
Roofstock
Roofstock's marketplace of single family rentals, or Roofstock One, its portfolio product, both focus on single family rental asset class.
Crowdstreet
Crowdstreet offers a diverse pool of commercial real estate options to choose from when investing.
Roots
Roots offers investors a portfolio of single family rental homes in which its residents become invested in the fund alongside the investors, which has led to lower vacancy, lower turn costs, and higher returns for its investors as you'll see below.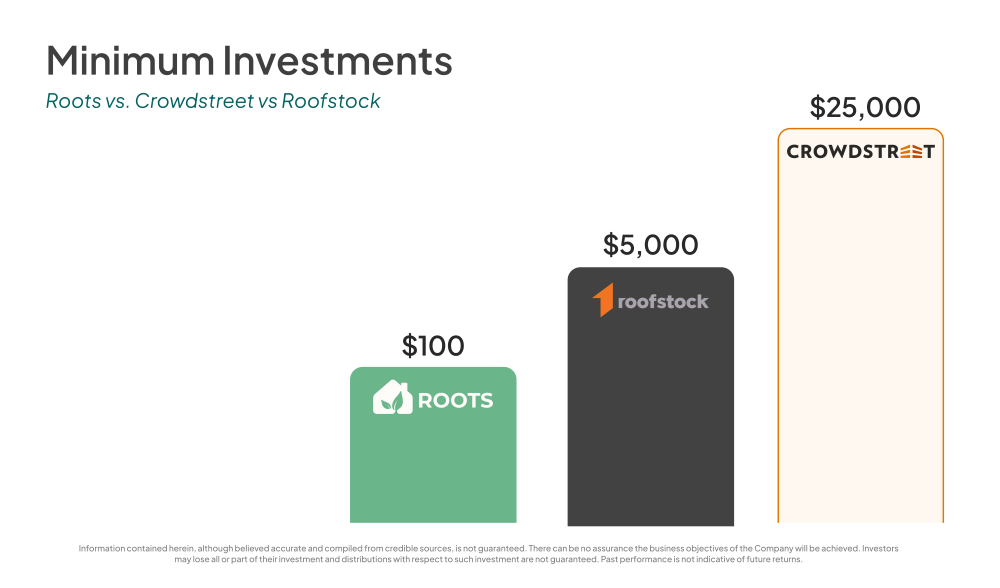 Minimum Investments, Fees, and Liquidity
Roofstock
Roofstock products are open to accredited investors only. Roofstock One does not charge any fees, while Roofstock does. Depending on which is higher, it charges $500 or .5% of the contract price for any offers on their properties and 3% or $2,500 of the sale price to anyone selling a property.
There is no minimum investment for Roofstock as you are buying or selling a property on its marketplace, but Roofstock One requires a minimum investment of $5,000, with investment options as low as $100 after the initial investment.
Liquidity is non-applicable to Roofstock, as its function is to allow purchasing and selling of homes on their marketplace, but Roofstock One offers its investors multiple liquidity options once the initial six-month holding period ends.
Roots
Roots is the only option open to non accredited and accredited investors – and the only one in which residents become investors the moment they move in through the "Live In It Like You Own It Program.® "
There is a 6% fee if you need to withdraw before the end of your investment's first year, and only $5 on your first investment (a transaction fee).
Quarterly distributions are available to be reinvested or cashed out.
Roots requires a minimum investment of just $100.
Crowdstreet
Crowdstreet offers different options to any accredited investor. You can choose to invest in a diversified fund through Crowdstreet directly, leaving the management up to Crowdstreet's real estate professionals or through single sponsor funds from specific real estate firms.
Crowdstreet also offers individual deals, which allow investors to communicate directly with sponsors, which removes Crowdstreet as a middle man, and they also offer tailored portfolios, which connects the investor with a Crowdstreet advisor. The advisor then assists the investor in developing a personalized commercial real estate portfolio.
Fees vary depending on the investment, going as high as 2.5% for a Tailored Portfolio.
Crowdstreet's investment horizon is long-term, meaning it is very illiquid and investors are in it for the long haul.
Crowdstreet requires $25,000 as a minimum initial investment, but depending on the type of investment made, the minimum may be higher – as high as $250,000 if you choose the Tailored Portfolio option.
Returns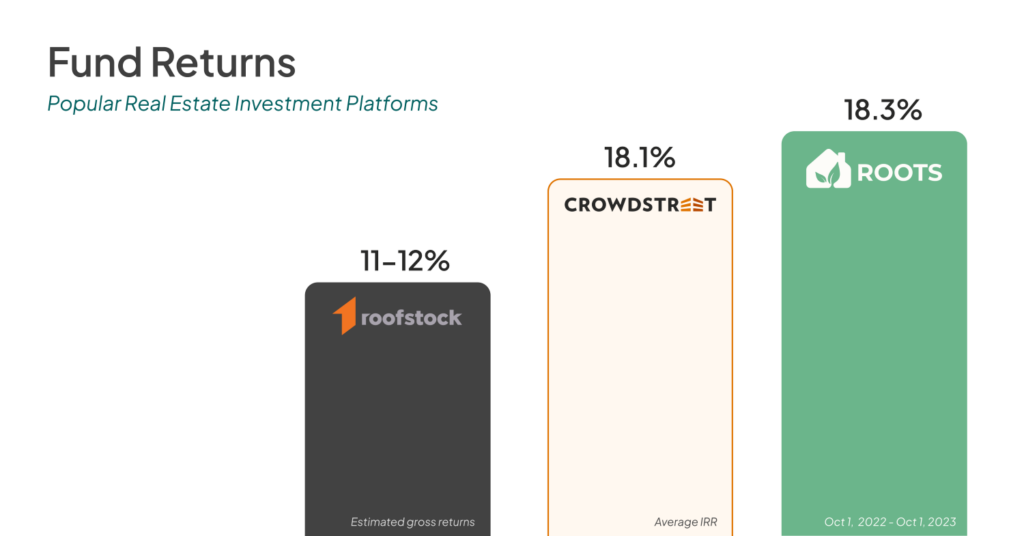 The Roots Fund returned 18.3% from October 1, 2022 - October 1, 2023 and 40% from July 1, 2021 - October, 1 2023.
Crowdstreet reports an annualized historic internal rate of return of 18.1%.
Most properties on Roofstock are projected to have a cap rate of 5-8% and a gross return of 11-12%, net of expenses. According to Business Insider, the average annual return is between 6-20%. Since you're buying individual properties, the range is large. Returns from Roofstock One vary with the type of investment made.
Even though historically all three companies have delivered returns to investors, it's important to remember that past results do not determine future success. Risks are always present when investing your money, so it's important to understand what those risks are before making your first investment.
Ready to Get Started? Invest with Roots!
Start Investing
Start investing with as little as $100, and in 5 minutes you can own a piece of the only real estate portfolio that creates wealth for both its investors and its residents.
---
Sources
You may be interested in
See other posts